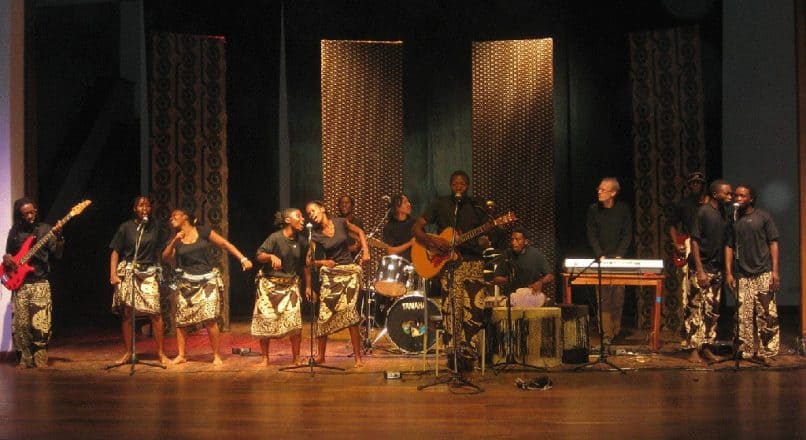 Visit to Bagamoyo College of arts

Visit to Bagamoyo college of arts |  1 Day tour to Bagamoyo | Bagamoyo day tours  | Bagamoyo town tour | The best of Bagamoyo town  | Dar-es-salaam Day Tours | Tanzania Travel Guide 
Visit to Bagamoyo College of arts:
Located about 500m southeast of Bagamoyo along the road to Dar es Salaam is this renowned theatre and arts college, home of the national dance company. When school is in session there are occasional performances, and it's usually possible to arrange drumming or dancing lessons.
The annual highlight is the Bagamoyo Arts Festival, usually held around late September or October. The festival features traditional dance and drumming performances, acrobatics displays, drumming workshops and much more.
The festival is not the most organised – advance information on schedules is rarely available – but it is a good way to meet Tanzania's up-and-coming artists and performers, and to get introduced to local talent and culture.
More Dar Es Salaam Travel Ideas
Planning your  trip? Whether you're looking for things to do in Dar Es Salaam such as events and attractions, key traveller information to make your Dar Es Salaam visit run smoothly or are planning where to stay in Dar Es Salaam, you'll find everything you need for your Dar Es Salaam holiday on Our Website. Dar Es Salaam City Travel guide has the information about latest events not to miss while you visit Dar Es Salaam – there's always something going on, so don't miss out on the latest exhibitions, shows and more on your trip to Dar Es Salaam.
Discover the best day trips from Dar-Es-Salaam or try one of the best tours Dar Es Salaam and nearby regions. If you're here as a family, you'll find plenty of things to do in Dar Es Salaam with kids and find suitable accommodation such as Dar Es Salaam holiday apartments. Whether you're looking for the best weekend breaks in Dar Es Salaam or planning a longer holiday in Tanzania, you can be sure you'll find all the information you need.