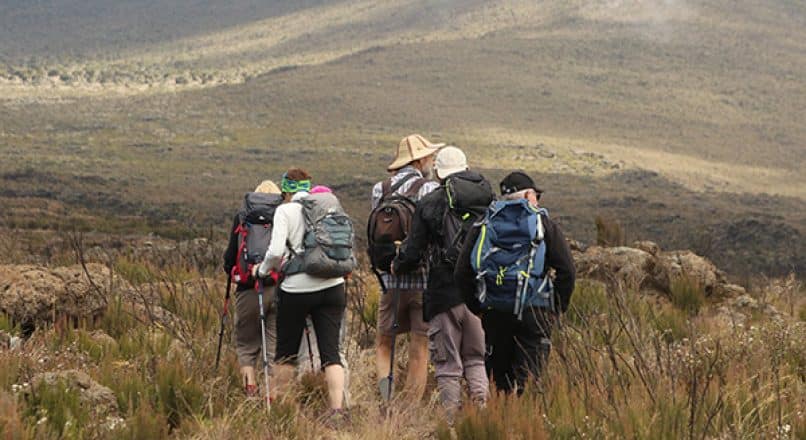 Kilimanjaro Climb Umbwe Route
The Western Breach route has been reputed to be the toughest and most dangerous route to the summit. This is quiet accurate am afraid! This section to the crater is the shortest and steepest and will require some scrambling. Additionally, there are rock falls.
The good news is that, it can still be navigated safely. Kilimanjaro National Park (KINAPA) advises all climbers to depart Arrow Glacier (base camp) by 05:30 AM in order to clear the danger zone on time. You will need head protection, ice axe, crampons and a decent budget for this route can be quite expensive especially if you plan to camp at the Crater. You will also need to sign a disclaimer at the park gates before you begin the trek.
Here is why I really like about this approach route:
#1. It is the shortest route to the summit
#2. It's easy access to the Ash Pit and other features of the summit
#3. You are likely to be trekking alone
#4. It has a certain aura suggesting that Kili is indeed alive
#5. It is a solid trek
#6. it is Kilimanjaro's toughest route
 
This approach route is ideal for those who prefer a 'bit-of-a-bite' to their trek. When you are negotiating the breach wall, there is a certain aura in the air that this mountain is alive. And she is talking to you. And then you reach the danger zone where evidence of this is marked by violent scars on the rocks beneath your feet. The moment you clear this area, you should take a deep breath and the solace of waking up from a bad dream. From there on, it is home free to the crater and eventually to the summit. Not for the faint-hearted am afraid!!
I highly recommend you do not stay at Arrow Glacier Camp as any rock that fall through the gap may end up cascading all the way to the campsite. Camp at Lava Tower instead.
On a serious note: Although this route is non-technical, the implications of the rapid ascent on this route certainly warrant prior acclimatization. Most trekkers on this route would trek Mt. Meru before tackling this route. Total distance is 45km. The descent is via Mweka Gate.
Best Kilimanjaro Climbing Iteneraries/Routes
Kilimanjaro rears to almost 6000 meters – just short of 105 meters. On a well-planned trek, 80% will summit. On a rushed one, less than 40% make the grade. The oft-repeated advice, "Pole, pole", pronounced, "polay, polay", is Kiswahili for "slowly, slowly". Go unhurried and enjoy the novelty of the adventure and the wonderful scenery. Don't waste a moment of this amazing top-of-the-world wilderness experience. Take your time, drink it in deeply and treasure your Tanzanian mountainous vacation achievement for a lifetime.
WhatsApp/Call: +255 759 694 668