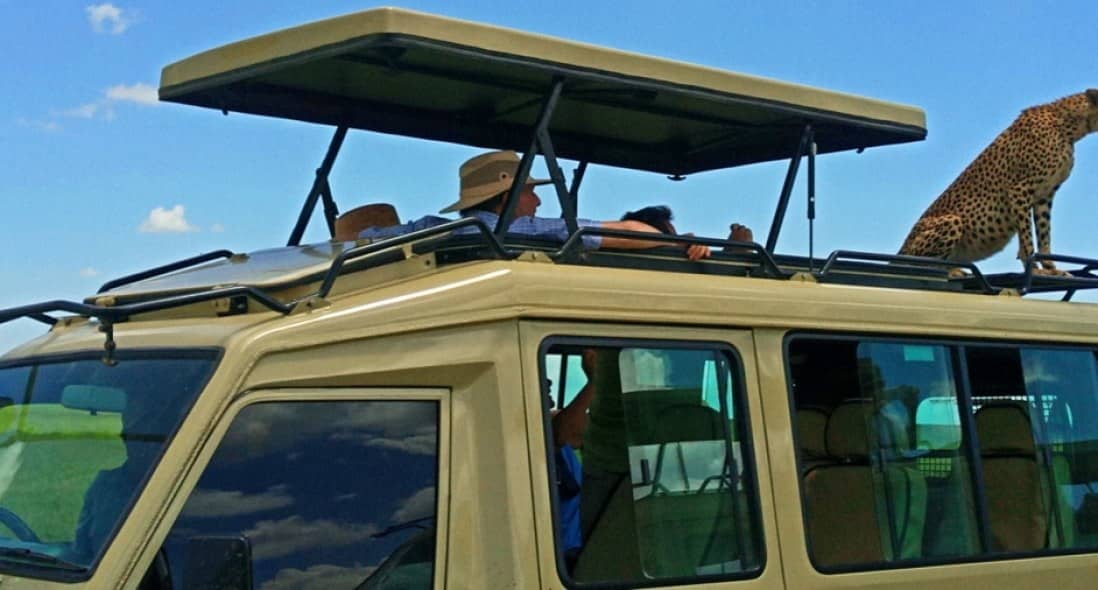 Tanzania Safari tours | Safari in Tanzania
Safari
Safari Iteneraries
Walking Safari.
Mountain Climbing.
Cultural tours.
Beach Holidays
Historical Sites.
Safari
An absolutely standout destination for wildlife, safaris in Tanzania take advantage of this country's huge parks, abundant fauna and accommodation to suit all tastes and budgets. Much of this wild country also remains less developed than Kenya, with some of its best safari destinations still well off the tourist trail. Add in the chance to see the Great Migration somewhere in the country virtually year round, plus the choice of game drives, bike tours and boat safaris and suddenly you're thinking – I need to go. Now!
The safari options in Tanzania seem almost as numerous as the wildebeest that thunder across its plains during the Great Migration. Unlike Botswana, which aims at high end travellers, big, beautiful Tanzania is open to all, but without feeling commercial. In fact, this vast East African country is much less developed than South Africa or Kenya, with a far greater sense of wilderness, and offers safaris to suit all budgets.
 From the vast grassy plains of the Serengeti and the dramatic Ngorongoro Crater, to little visited parks in the south where African wild dogs roam, Tanzania has a host of world class wildlife watching locations, but picking where to go is just one choice of many. Choose your price – Tanzania caters for champagne tastes and lager-shandy budgets – and work out what you'd most like to see, how much you're prepared to travel and what time you have, in order to crystallise this embarrassment of safari options into the perfect personal adventure.
Safari Iteneraries
Walking Safari.
Mountain Climbing.
Cultural tours.
Beach Holidays
Historical Sites.
Tanzania Safari Accommodations
Overview
Arusha
Dar'salaam
Iringa
Kilimanjaro
Kigoma
Morogoro
Tanga
Mwanza
Mbeya
Overview
Tented, Camps, Lorges and Resorts

There is an incredible variety of accommodation available on a safari and beach holiday in alluring Tanzania, from sumptuous private villas and boutique suites on the Indian Ocean islands like Zanzibar, to Hemingway style luxury tents with all possible adornments of gracious living, family farms with warm friendly welcomes, solidly built lodges, unpretentious bush camps, cultural experiences in African bandas, ecologically sound minimal impact accommodations and mobile camps, moving seasonally, or even carried with you on fly-camping expeditions.

How we grade the Safari Accomodation?

Trip Insight Tanzania grade all these types of temporary and permanent homes on a three-grade scale to enable you to form realistic expectations.

#1. Budget Lodge and Tented Camps.
#2. Midrange Lodges and Tented Camps.
#3. Luxury Lodges and tented Camps.
You Can Also Select Your Tanzania Accommodation Sorted By Lodge, Camp, Beach Resort Or Town Hotel
| | | |
| --- | --- | --- |
| Tanzania Lodges & Camps | Tanzania Beach Resorts | Tanzania Cities  Hotels |
Arusha
Dar'salaam
Iringa
Kilimanjaro
Kigoma
Morogoro
Tanga
Mwanza
Mbeya
Tanzania Safari Planning with Expert
Tanzania is a big country and the main safari destinations can be split into the north (The Serengeti and Ngorongoro Crater) or the south (The Selous and Ruaha). Most tourists flock to the north as it is comprised of the famed highlights of Tanzania – and rightly so as the wildlife and game viewing is phenomenal. However, the fame of the north can often overshadow the south, which in our view is one of East Africa's best kept secrets. West Tanzania is the utmost luxury safari option. It is extremely expensive to get to and hardly any tourists do as a result. As a rough guide – when 70% of travellers head to the north, 25% go to the south, and only 5% or less venture to the West.
The North Circuit
The South Circuit
Gretat Migration
When to go?
Tanzania Safari Pricing
How to Get to Tanzania?
The North Circuit
A guide to Northern Tanzania
Northern Tanzania is expensive (comparatively to the south) but offers unrivalled wildlife viewing and is completely iconic.

The Serengeti National Park (which borders the Masai Mara in Kenya) is world-class and home to The Great Wildebeest Migration as well as the biggest concentration of predators on the planet. We would recommend spending a minimum of three nights in the Serengeti – there is so much wildlife to see and areas to cover, that it would be a shame to travel all the way there and stay for any less. 

The Ngorongoro Crater has a huge amount of the big 5 in a unique and dramatic setting. Surrounding the crater, the Ngorongoro Highlands is home to colourful Masai culture and rolling coffee farms. 

Tarangire National Park is another option for amazing game viewing. Night drives, fantastic views and a colossal number of elephants all addd up to an amazing safai experience. However, it is more of an "add-on" park to the main northern circuit of the crater and Serengeti.

Lake Manyara is another smaller park with flamingos, fantastic land-birdlife and some truly beautiful spots for safari. It can be seen in an afternoon rather than as the focus of a trip as it is small. Most people who drive to the crater go via Lake Manyara .

THE BIG FIVE IN THE SERENGETI

The Big Five define that ultimate African safari experience: seeing these impressive animals – lion, rhino, leopard, elephant and Cape buffalo – roaming freely in their own habitat is something you will never forget. Good job that these Big Five in the Serengeti are now only 'shot' by camera. Your guide and tracker will help you check the Big Five off your list.
| | | | |
| --- | --- | --- | --- |
| Lake Manyara Iteneraries | Ngorongoro Crater Iteneraries | Tarangire National Park Itenerarie | Serengeti National Park Iteneraries |
The South Circuit
Gretat Migration
When to go?
Tanzania Safari Pricing
How to Get to Tanzania?
Tanzania National Parks Map
Top National Parks and Game reserves in Tanzania
Serengeti
Ngorongoro
Kilimanjaro
Selous
Ruaha
Manyara
Tarangire
Mikumi
Mount Meru
Serengeti
The Serengeti is one of the most famous parks in Africa and is synonymous with wildlife and classic African scenery. It is Tanzania's oldest park and a Unesco World Heritage Site. It is home to the spectacular wildebeest migration and offers top-class wildlife viewing throughout the year.

The Wildebeest Migration

Every year, over 2 million wildebeest, zebra and gazelle migrate from the Serengeti to the Masai Mara Reserve in Kenya. If you're there at the right time, you can spot herds of wildebeest and zebra stretching to the horizon.

Wildlife

The Serengeti offers some of the best wildlife viewing in Africa. All the major safari animals occur in great numbers. Cheetah and four of the Big 5 are easily seen, but rhino sightings are rare, and only black rhino are present.
.
Ngorongoro
Kilimanjaro
Selous
Ruaha
Manyara
Tarangire
Mikumi
Mount Meru