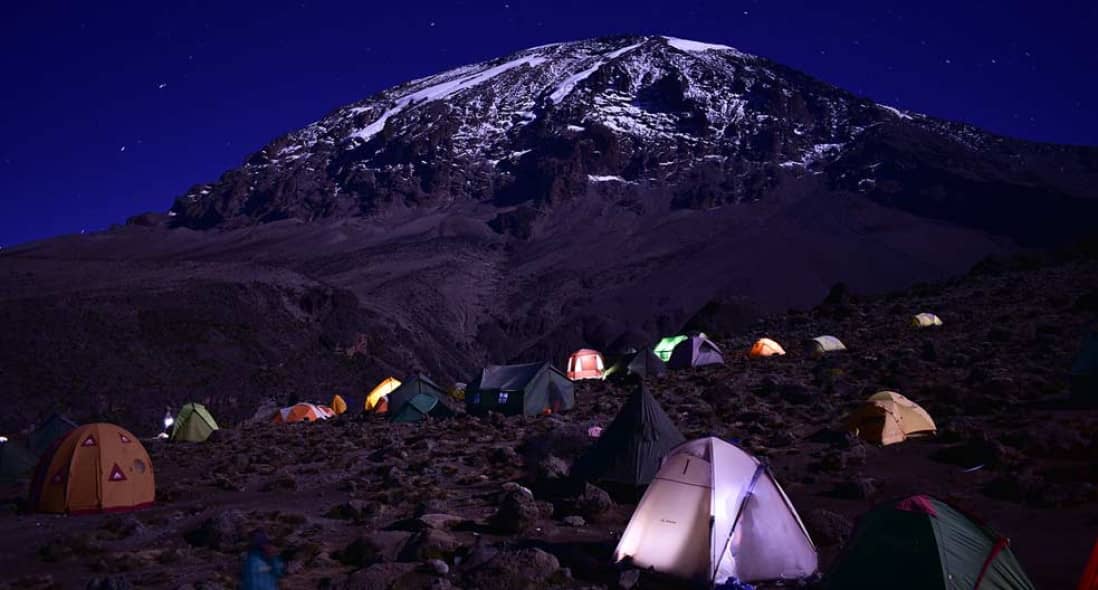 Summit night on Mount Kilimanjaro
There's nothing quite like the feeling of standing on the top of a mountain. And when you stand at the summit of Kilimanjaro, you're not only standing at the highest point in Tanzania, but the highest point in all of Africa. The views, quite simply, are incredible. But how hard is the journey up there? How long does it take, and how tough is the trek? If you're wondering what summit day is like on Kilimanjaro, we've got all the answers.
Summit night is the final part of the climb, when hikers reach Uhuru Peak. It's sometimes called summit day, and that's also right: the climb begins at night and ends when the sun is already long up. To be more accurate, it starts at midnight and finishes late in the afternoon. Over this time, groups of hikers trek up to the peak and then cover about half of the way back down the mountain.
Everything about Kilimanjaro Summit night
How it Feels?
Why climb Kilimanjaro at night?
Why is the summit night so tough?
How does everything go?
How it Feels?
"Summit night on Kilimanjaro is tough. It's a long haul up, a climb of over 1,400 metres to the summit. Walking through the night in the dark and the cold can be challenging but once the sun begins to rise over Mawenzi in the distance and you see your first objective, Stella Point, determination kicks in and the taste of success becomes tangible and real."

Summit day begins the night before. You start with an early dinner and go to sleep early. You will wake up around midnight to prepare for the summit attempt. After a light snack, your ascent will begin. The summit day is a tough, 11 to 16 hour day of hiking.

This difficult feat is what makes climbing Kilimanjaro a monumental achievement. The guides—based on how the group has climbed so far—time their trekking party to reach Stella Point near sunrise. That means you will be hiking in the cold, and possibly windy, darkness for at least 6 hours.
Why climb Kilimanjaro at night?
Why is the summit night so tough?
How does everything go?
Dress warmly
It's freezing cold up there, so make sure your outfit is appropriate for the arctic zone. To prevent your body from losing warmth, wear layers. Include thermal underwear, a fleece jacket, a waterproof, breathable jacket with hood, waterproof hiking pants, fleece pants, warm socks and an insulated down or synthetic jacket. It's equally important to keep your hands warm, so it's recommendable to put on inner gloves, thermal gloves and ski mittens. Finally, don't forget about a warm hat to cover your head and a balaclava to protect your mouth, nose, cheeks against frostbite.
Kilimanjaro Summit night FAQ