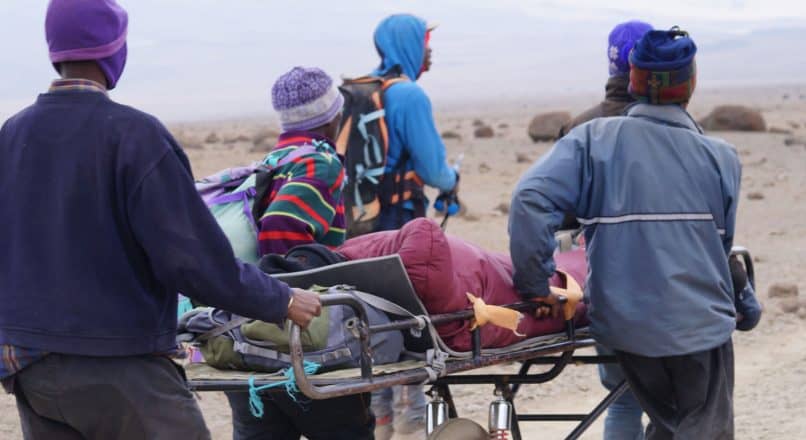 Health Issues At Kilimanjaro
Kilimanjaro is a serious undertaking and a good level of fitness is a clear necessity to stand a good chance of summiting. There are no specific training or preparation requirements for Kilimanjaro but preparation will certainly help.
Preparing for the mental battle: The biggest challenge of Kilimanjaro if the mental battle. You will need significant reserves of determination and patience to make it to the top. If you haven't trekked before or don't do much walking at home, then several long day walks (preferably including significant climbs) would be good preparation.
Preparing for the physical challenge:  Most reasonably fit people will be able to push themselves up Kilimanjaro, but preparation can mean the difference between a long hard slog and having enough in the tank to enjoy the climb. A reasonable preparation would combine a three month training program with 2-3 cardiovascular half hour sessions a week (could be a run, swim, cycle, football, squash…) with several medium – long hill walks (5-8 hours), particularly in the final run up. The intensity of this program should be adapted depending on your general levels of fitness.
You should avoid high altitudes in general (and Kilimanjaro specifically) if you have any underlying heart, lung or blood pressure conditions. Consult your doctor if you have any concerns.
What to Do If You Get Sick Away from Home
While in the tourist areas, you'll have access to good medical facilities. The coast, too, has top-class facilities, which in some cases even offer cosmetic procedures to vacationers. If you are going to more remote regions, be aware that medical facilities (including drugstores) are few and far between. There may be occasional clinics, but these are poorly equipped and may not be able to dispense medicines that you might require. 
For minor ailments, pharmacists can assist and recommend a doctor, if necessary. Expect to pay for any medical services either upfront or immediately after treatment. If you have international medical insurance, keep the receipts so your company can reimburse you. However, if you become seriously ill and require advanced medical attention or surgery, you should definitely fly home, as local equipment and training standards are still far below those in the West. 
Your travel insurance should include repatriation to your home country in an emergency. Within Kenya and based at Nairobi's Wilson Airport, the Flying Doctor's Society of Africa (www.amref.org) provides evacuation from remote areas in both Kenya and Tanzania to the nearest hospital. You may want to consider a temporary membership ($50) if you are going off the beaten track, but for the more popular parks and reserves, there are adequate medical provisions in case of an emergency.
Climb Kilimanjaro? https://www.tripinsighttanzania.com/