Katavi National Park | Tanzania National Parks

Katavi National Park
Katavi National Park is raw, remote and little known. The immense concentration of game, especially as the seasonal lakes disappear, will astound even hardened safari-goers.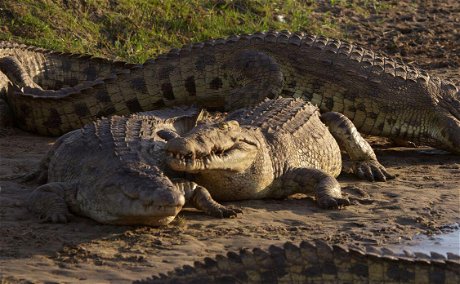 History
Katavi NP, in the Rukwa Rift, was extended to its existing size of 4470km2 in 1998 making it the third largest park in Tanzania. Katavi's landscape is dominated by 3 large floodplains strung together by the Katuma River which boasts one of the largest population of Hippo and Croc and provides a habitat for an abundance of water fowl. The savanna plains fill with huge herds during the day time and the equally impressive selection of predators wait patiently for their return to the woodland towards the end of the day.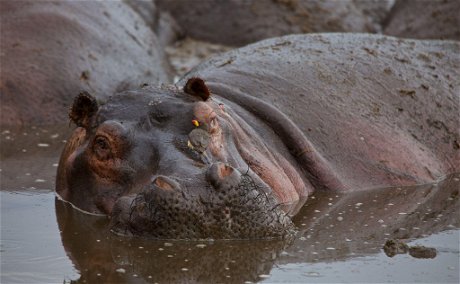 Mammals and Birds
Katavi has similar wildlife to Ruaha, with an enviable selection of antelope including Topi, Roan and Sable often found in large herds. Predators include some of the most luxuriously maned lions to be found, leopard, and hunting dog. As the river dries up the hippo fight for space in the limited pools and the croc caves become visible along the bank, a fascinating sight. The greater Katavi area has 373 recorded species of bird.  The green season months will have additional migratory species.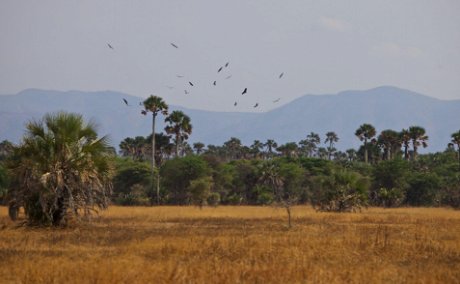 Landscapes
Katavi is ancient Africa as one might imagine from days gone by; mountain ranges provide a backdrop to the low-lying seasonal lakes (Katisunga, Chada and Katavi), each one encircled by the evocative palms and scrub. The lakes, in reality open plains in the dry season and boggy marsh in the wet, are connected by the Katuma River , which support a refreshing belt of green, winding through the landscapes, and providing contrast to the drier areas around.
I booked my safari holiday through Serengeti trips. They were the most helpful company I have ever dealt with and I work within the travel industry. I had the most amazing time. The holiday went as clockwork with no hitches anywhere.
Daear William, Just to let you know we had a great adventure at Katavi  National Park. All went well. Saw chimps every day and lots of them on first and last day. 
When to Visit Tarangire National Park
Excellent time is: August, September and October and also you may visit in as well as.
For fair views you may visit in: July
However we do not recommend that you travel in November, December, January, February, March and April.
Katavi is a typical dry rural reserve. In the wet season which commences in November up to April, the wildlife scatters into the woodlands and it is really hard to see the wild animals.  During the wet season, the heat plus humidity is harsh. Once the rains are finished, River Katuma is reduced in size into a narrow water stream and the adjacent floodplains turn into an attraction for wildlife.
In Brief
The best time to visit: August – October
Peak Season: July – October (Katavi hardly experiences large crowds at any time)
Low Season: April and May and during that time most lodges are closed
Best Weather Conditions: June to October since there are less rain
Worst Weather conditions: November to April since it is the wet season
Getting to Katavi National Park
---
The best way to get to Katavi is by a flight from Arusha. The only public, scheduled flight is the twice-weekly service between Ruaha, Katavi and Mahale operated by Safari Air Link.
Zantasair works with its sister company Mbali Mbali lodges, to offer twice-weekly shared charter flights between northern Tanzania and western Tanzania, incorporating Katavi and Mahale National Parks
Depending on your itinerary, your entry point to the country will either be Kilimanjaro International Airport (JRO), about 46km/29mi from Arusha, or Julius Nyerere International Airport (DAR) in Dar es Salaam. In most cases, your tour operator will pick you up from the airport and make ongoing arrangements, including the charter flight to the park's airstrip.
Activities on your Katavi Safari
Walking safaris

Walking safari experiences involve treks with an armed ranger and bush camping. The walking safari route takes you along Lake Katavi, a seasonal floodplain where you can expect to see grazing hippos and crocodiles. For travellers who cannot walk long distances, game drives can be organised through your accommodation.

 

Birdwatching

Katavi is also a great destination for birdwatching, and it is home to over 400 bird species. Prices are around $59 per person at the time of writing, and there is an additional guided walking fee per group which is $23.60 for a short work or $29.50 for a longer one.

 

Visit historical sights

Katavi National Park has an interesting history. You can visit the Kabora-Lyonga-slave route which passed through this area during the slave trade. Visitors can also view the famous tamarind tree which gave the park its name according to local tradition. In Katavi customs, the tree is the home of the famous hunter, Kataviwhom, and locals offer food to its roots to gain luck when hunting. 
Where to Stay in Katavi National Park?
Safari buffs fall in love with this park very quickly, and for good reason. It is very wild and untouched, so as a result any experience here will be a magical one. The game is outstanding, especially buffalo and lion. All in all we think Katavi is Tanzania's best kept secret. There are only a handfull of camps in Katavi, please see below some of our favourites.
Chada Camp
Chada is one of the most remote lodges we use in Tanzania, located in the Katavi National Park, one of the wildest game experiences in Tanzania. There are a handful of lodges in the park and this is by far the best property, run by Nomad Tanzania who are famous for their adventurous camps with some very good guiding and management.  A stay at Chada is often complimented with a stay in neighbouring Mahale National Park at the other famous Nomad property- Greystoke.
Katuma Lodge
Katuma Bush Lodge is ideal for the traveller looking for a truly remote experience away from regular tourist routes. In this park, you will find animals curious and unfamiliar to human contact. The flotillas of pelican are a special sight.  Game drives are offered twice a day with an optional night game drive.  
Katavi Wildlife Camp
Katavi only has a couple of accommodation options in the park and this is one of our favourites with a simply incredible view onto the plains. Owned and run by the Fox family, who have other properties in southern Tanzania this camp reflects what a classic safari camp should be like. 
Planning a Trip in Katavi National Park
Visitor Information — Further information about all parks is obtainable at www.tanzaniaparks.com; visit also the more dedicated sites www.mahalepark.org and www.katavipark.org. Gombe charges an entrance fee of $100 per 24 hours, the highest for any Tanzanian National Park, though this is applicable only to time spent in the forest, not to time spent in camp. The entrance fee for Mahale is $80 per 24 hours. Both parks charge an additional guide fee of $20 per party for chimpanzee tracking. Entrance to Katavi is set at $20 per 24 hours.
Discover iconic Katavi National Park
Home to the largest herds of buffalo on the planet, Katavi National Park is a relatively untouched wilderness paradise, situated in the western area of Tanzania.The park boasts a wonderful array of habitats, which range from flood plains of thick reeds and dense waterways that teem with hippo and crocodile to woodlands, open grasslands, forests and pristine seasonal lakes.
Visitors to the area can seek out the legendary tamarind tree, which is said to house the spirit of a great huntsman named Katabi. Here, they can place an offering at the base of the tree in memory of this exceptional hunter.
Best Katavi Safari tours
Home to the largest herds of buffalo on the planet, Katavi National Park is a relatively untouched wilderness paradise, situated in the western area of Tanzania.