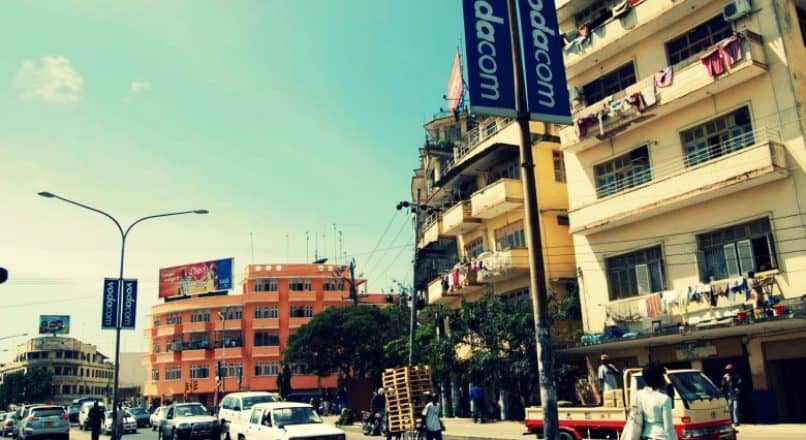 Safari from Dar-es-salaam | Dar-es-salaam Tours
Dar-es-salaam Safari overview |  2021 Dar-es-salaam Safari tours |Top Serengeti Safaris from Dar-es-salaam | Top Ngorongoro Safari from Dar-es-salaam |Tanzania Safari and Tours  |Climb to Mount Kilimanjaro and Meru from Dar-es-salaam | The best of Tanzania Safari  | Expats in Tanzania | Tanzania Travel Guide 
Table of Contents I Page Menu
Dar-es-salaam Safari overview
While the northern parts of Tanzania are the best known and most popular with tourists, the south offers many benefits for adventurous travellers who want to get off the beaten track. Due to its lower profile, it's probably the only area of the country that offers tourists a closer immersion into the African landscape. It's quite rare in Game Reserves like Selous to be surrounded by other safari vehicles – an all too common occurrence in the more popular parks that can ruin the safari experience.
7 Reasons to Visit Southern Tanzania:
#1. Stunning locations – It's home to many of the most stunning safari locations.
#2. Selous Camp – One of the best explored National Park.
#3. Ample wildlife –  in Nyerere National Park for example, it's possible to see the elusive wild dog. 
#4. Fewer tourists  – It's impossible to escape the crowds in the most popular safari spots.
#5. Convenient and easy to access – If you land in Dar-es-salaam, you can start your safari right away.
#6. Save money – Lodges and hotels offer excellent value for money.
#7. Close to Zanzibar – Just hop on the ferry or take a short flight from Dar es Salaam.
Where Does Safari Start?
We leave from Dar es Salaam and we can pick you up from the International Airport or your City Hotel.
Dar also has a few points of interest for visitors and if you have a day in the city we can show you the highlights on a City Tour.
Best time to Visit
The best time to visit for a safari is during the dry season from June to October when there is less rain and the wildlife is clustered around rivers and waterholes. Avoid March, April and May which is the peak of the wet season unless you are visiting mainly for bird watching, scenery and wildflowers.
Where to go?
All our safaris are custom designed to suit the group size, age, fitness, accommodation choices, length of safari and wildlife viewing requests. We will be happy to help you decide which of these destinations is most suitable for your safari:
#1. Nyerere National Park;
#2. Mikumi National Park;
#3. Ruaha National Park;
#4. Kitulo National Park;
#5. Saadani National Park;
#6. Kilwa ruins;
#7. Udzungwa Mountains.
 
Oversight Safari
As all our tours are custom designed, we can organise a short one or two-night trip or a longer safari where you can visit several of the local national parks and game reserves.
Accomodation Options
We offer two options for accommodation on our safaris:
Staying in safari lodges, hotels or luxury tented accommodation.
Staying under canvas in a private campsite set up by us to give you the quintessential African safari camping experience.
The National Parks:
Nyerere National Park:
Within easy reach of Dar es Salaam, Nyerere National Park (formerly know as Selous Game Reserve) is the largest wet wilderness area in the world and one of the most pristine wilderness areas in Africa. Named a World Heritage Site by the United Nations in 1982, Selous is larger than Switzerland, covering almost 6% of Tanzania's land surface at 54,000 square miles.
The Rufiji River and several of its tributaries flow through the reserve which exhibits several different types of habitat including open grasslands, acacia and miombo woodlands, swamps, lakes and forests. These different habitat areas are home to diverse wildlife, from predators to prey.
Bordered by Mikumi National Park, Udzungwa Mountains National Park and Kibasira Swamp, the northern part of the Selous is the only part which is accessible to tourists; it's also the most beautiful part and home to the most wildlife.
Originally created for hunters, Selous is now mostly reserved for photographic safaris with a priority on conservation and protection of wildlife. However, hunting is still permitted in some areas of the park and this remains a primary source of income.
While visiting Nyerere National Park you can participate in a game walk or a boat safari on the Rufiji River which is home to large numbers of crocodiles, hippos, and elephants. More than half of all the elephants in Tanzania live in the park, around 60,000 at the last count. However, you are unlikely to see large herds of elephants in here as they tend to roam in smaller groups led by matriarchs.
Nyerere National Park also has the largest population of the endangered African wild dogs in Tanzania, although these well-camouflaged predators are notoriously hard to spot. Birdlife is also prolific with over 430 bird species identified here. Our guides carry bird books with them but serious birders may want to invest in their own birding book. Whatever your interest, your trip here will enable you to view diverse wildlife in their natural habitats with few other tourists around.
Mikumi National Park:
Mikumi National Park's landscape is characterised by the Mkata River Flood Plain and surrounded by the Uluguru and Rubeho mountains. Mikumi is famed for its tree-climbing lions but is also home to all manner of wildlife, from elephant, giraffe, zebra and antelope, through to the predators that hunt them.
This is a must visit destination for bird lovers as over 400 diverse and colourful species live here.
Ruaha National Park:
Ruaha is Tanzania's second largest National Park. It is accessible by a ten-hour drive from Dar es Salaam passing through Mikumi National Park, or by small plane from Dar, Selous, Serengeti, Arusha, Iringa and Mbeya. Flying into Ruaha National Park is an experience in itself with the abundant wildlife visible from the runway and grazing herds of giraffe and zebra likely to scatter as the plane lands.
The rugged, semi-arid bush is a wilderness home to around 10,000 elephants. During the dry season, when game viewing is best, the Ruaha River which rages during the wet season leaves pools of water that attract all manner of wildlife including grazing animals, diverse species of antelope and predators that hunt and feed on them.
A stay in Ruaha may reveal prides of lion that stalk the savannah as well as cheetah and leopards on the lookout for their next meal. Then there are the hyenas that feast on leftovers and carcasses as well as wild African dogs that hunt in packs. Ruaha is also known for the prevalence of kudu, a large antelope with long spiralling horns, with the male greater kudu most visible during the breeding season in June.
During your visit, you will also enjoy seeing and hearing a wide variety of multi-hued birds, each with their own unique call.
As for the rest of Tanzania, the best time to visit and view predators and large mammals is during the dry season from mid-May until December. However, if bird watching, scenery and wildflowers are your focus the wet season from January through April is an excellent time to visit.
As well as joining walking safaris or longer day hikes you can also visit the stone age ruins of Isimila which are one of Africa's most important historical sites. There is a good choice of accommodation including a riverside lodge, tented camps, self-catering bandas and designated campsites.
Kitulo National Park
With rich volcanic soil Kitulo is a botanist's paradise, famed for the wildflowers that grow here including stunning orchids, protea, giant lobelia and lilies to name but a few. While a few mountain eland and reedbuck roam the grasslands, people visit primarily for the flowers, birds and butterflies. Known locally as God's garden, Kitulo is an earthly paradise.
The best way to get here is to fly but it is possible to get here overland if you have plenty of time and are prepared for an adventure. When visiting you can stay in a luxury tented camp or ask us to set up a camp for you in one of the campsites inside the park. There's a resthouse at nearby Sitalike and basic hotels at Mpanda.
Saadani National Park:
Saadani combines excellent wildlife viewing opportunities with coastal scenery and beaches that from the Indian Ocean. It's the only wildlife safari in East Africa where you can see game on or near the beach.
We recommend you stay at the Sanctuary Saadani River Lodge during your visit and incorporate a boat safari into your trip to make the most of wildlife viewing opportunities. Saadani can also be visited on a day trip.
Kilwa Ruins
The Kilwa Heritage Site is an archaeological site featuring the impressive remains of what was once a sizeable city. In the 11th Century, Kilwa was a major trading post for the Swahili coast, trading precious metals, beads, textiles, ivory and spices along the coast and into the interior as far as Zimbabwe.
The site also holds significant history for the slave trade and colonialism. Your guide will bring the rich and varied history of Kilwa to life.
Udzungwa Mountains
Biodiversity is the buzz word when it comes to the Udzungwa Mountains which house a wild variety of plants and animals. The mountainous terrain is covered in lush rainforest that contain up to 40% of Tanzania's plant and animal life, many of which are unique to the area. The area supports diverse wildlife, such as elephant, buffalo, big cats, African wild dog, bushbuck and eland, as well as six species of primate including two which are unique to this area.
As well as holding great natural beauty and biodiversity, the park is also rich in legend and contains several cultural and historical sites. The World Wildlife Fund is working in this area to preserve the cultural and biological heritage. Visitors can stay at the waterfall lodge, in luxury tented accommodation or a private campsite set up by us so all you need to do is relax and enjoy the scenery.
Day Trips from Dar-es-salaam
There are two unique and very different National Parks which are easily accessible and possible to visit in one day from Dar es Salaam.
Mikumi National Park
If you want to view wildlife in its natural habitat take a day trip to Mikumi National Park. Here you can see elephants, giraffes, zebras, elands, kudu, wildebeest, and antelope as well as the predators who hunt them such as lions, leopards, wild dogs, and black-backed jackal. Mikumi National Park is also home to over 400 bird species making it an ideal safari destination for bird lovers.
Saadani National Park
Bordering the Indian Ocean, this is the only wildlife sanctuary in East Africa where the bush meets the beach. Lined by miles of white sand beaches without a deckchair to be seen, you are more likely to spot elephants or lions on the beach than sun worshippers.
Saadani can be visited for a game drive, boat or walking safari with grazing animals commonly seen including elephant, giraffe, buffalo, warthog, waterbuck, sable, vervet monkeys and many more.
Close to the Wami River or on a boat safari there's a good chance of spotting hippo, crocodile and marine and riverine birds, including kingfishers and flamingo. The beaches at Saadani are one of the last major green turtle breeding sites on mainland Tanzania, although they are rarely spotted in the daytime.
Zanzibar Island Day Trip
A day trip to Zanzibar is a very different type of safari allowing you to learn about the history of this spice island and experience Swahili culture and cuisine. Your tour will include a visit to the old town to appreciate the historic architecture, the market and backstreet bazaars. After a delicious traditional Swahili lunch we'll take you to visit one of the spice plantations to learn about and sample the spices that grow here.