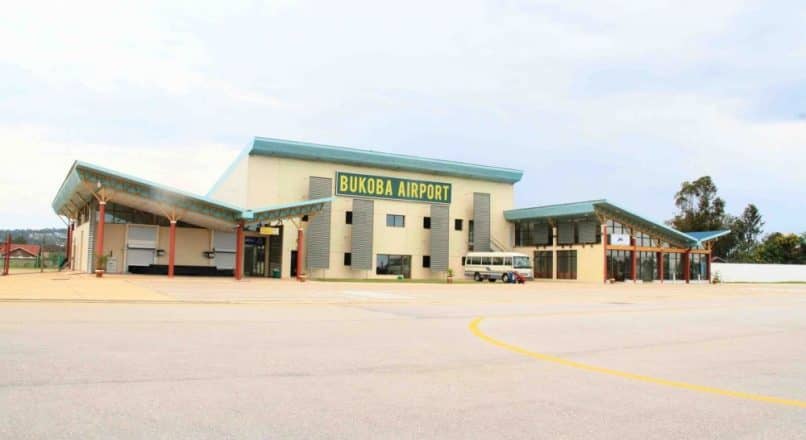 Bukoba Airport | Tanzania Airport Transfers
Bukoba airport | Bukoba Airport Transfers  | Tanzania airports Transfer  | Tanzania Transfer Service  | Tanzania Travel Service | Transport in Tanzania | Private transport in Tanzania | Tanzania Travel Guide 
Bukoba Airport:
Bukoba Airport is an airport in northwestern Tanzania serving the town of Bukoba and the surrounding Kagera Region. It is adjacent to Lake Victoria. The Bukoba non-directional beacon is located on the field. Bukoba Aiport is is located 0.5 NM NE from Bukoba Town.
Bukoba airport operates as a domestic and entry and exit point for international flights from neighboring countries. Bukoba Airport is managed by Airport Manager who is responsible for monitoring and managing other airstrips in Kagera Region which are Biharamulo and Ngara.
Airlines flying to Bukoba:
Currently, there are 2 airlines that fly to Bukoba. Below you can find the list of airlines that operate all BKZ flights:
#1. Air Tanzania (TC)

1 route to BKZ

#2. Precision Air (PW)

1 route to BKZ
Domestic flights to Bukoba:
There is just one domestic flight to Bukoba, which is between Bukoba and Mwanza. From Mwanza, you can fly non-stop with Air Tanzania or Precision Air.
For all your travel need in Tanzania, Airport transfers, Mountain Kilimanjaro and Meru Climb, Safari to Serengeti and all Tanzania Nationa. parks: WhatsApp: +255 759 694 668 or email: info@tripinsighttanzania.com
Alternative airports near Bukoba:
Flying to an alternative airport near Bukoba could give you other options to reach your destination. For example, the possibility to fly with a different airline or alliance, or finding a cheaper airfare. For this reason, alternative airports near to Bukoba (BKZ) are listed below. The closest alternative airports are Entebbe (EBB) and Mwanza (MWZ).
#1. EBB – Entebbe

Uganda – 

104 mi / 168 km
#2. MWZ – Mwanza

Tanzania – 

109 mi / 175 km
#3. KGL – Kigali

Rwanda – 

124 mi / 200 km
More about Tanzania Travel Guide: