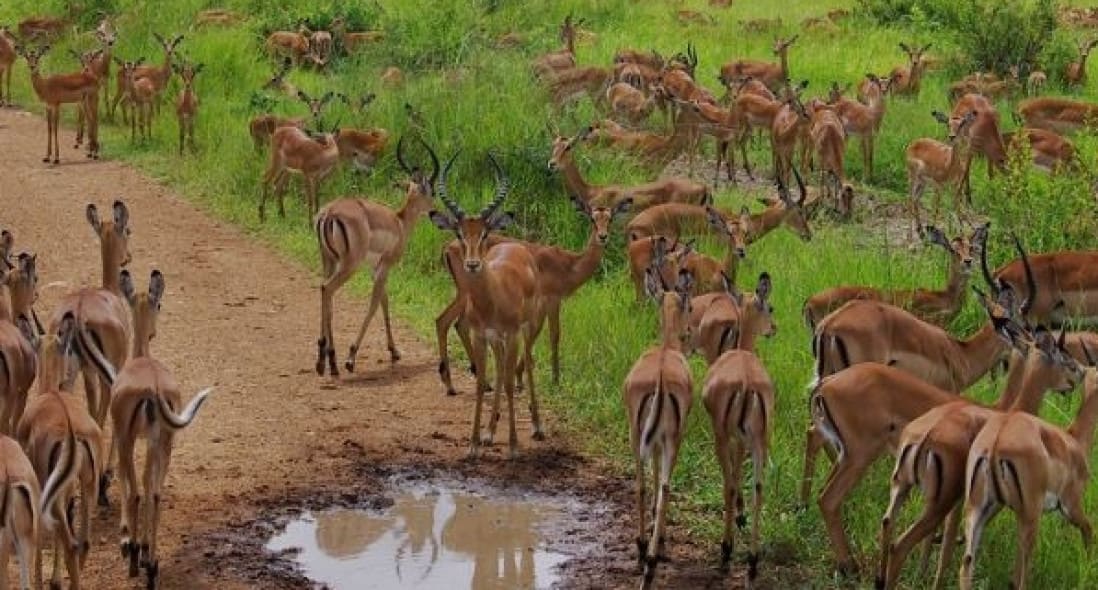 Best Mikumi Safari Tours
BEST MIKUMI SAFARI TOURS
Mikumi National Park borders Selous Game Reserve on the south, the two areas forming a unique ecosystem.Two other natural areas bordering the national park are the Udzungwa Mountains and Uluguru Mountains. 
Malundwe Mountain is within the park, the highest of a belt of hills that run east and west through the park, connecting the Uluguru Mountains to the northeast with the Uvidunda and Udzungwa mountains to the west. Malundwe Mountain consists of three peaks along a ridge running north and south. Malundwe's south peak is the highest point in the park, reaching 1290 meters elevation.
The Mikumi National Park near Morogoro, Tanzania, was established in 1964. It covers an area of 3,230 km² is the fourth largest in the country. The park is crossed by Tanzania's A-7 highway. 
Where to stay in Mikumi National Park

Camp Bastian Mikumi offers different type of accommdation to suit all needs. It consists of 7 chalet in different sizes and a camp site.
Featuring free WiFi, Tan-Swiss Lodge is set in Mikumi, 13 km from Mkumi Hippo pool. Free private parking is available on site. All units have a flat-screen TV.
With garden views, Voyage Village is set in Mikumi and has a restaurant, room service, bar, garden and terrace. Very clean and good service
Mikumi Ndovu Lodge is located in Mikumi National Park and offers a bar. This tented camp features a garden and free private parking.
Vuma Hill Tented Camp is set on a hillside overlooking the seemingly endless wilderness on the south west of Mikumi National Park.
Foxes Safari Camp (Stanley's Kopje) is located in Mikumi National Park, on a rocky hill on the Mkata flood plain, in one of the best game viewing areas of the park.
Mikumi is Tanzania's fourth-largest national park. It's also the most accessible from Dar es Salaam. With almost guaranteed wildlife sightings, it makes an ideal safari destination for those without much time.Since the completion of the paved road connecting the park gate with Dar es Salaam, Mikumi National Park has been slated to become a hotspot for tourism in Tanzania. Located between the Uluguru Mountains and the Lumango range, Mikumi is the fourth largest national park in Tanzania and only a few hours drive from Tanzania's largest city. 
When you are visiting Zanzibar and/or Dar Es Salaam, Mikumi National Park is only a short flight away. From Zanzibar we fly daily to the great National park in Tanzania. In 50 minutes you will be in the middle of the bush and the amazing wildlife.The possibilities are unlimited… a quick Day Safari, Flying out of Zanzibar early morning, a full day game drive with a bush lunch included, and before the sun sets over Zanzibar, you will be back, or even more perfect, spend a few nights… so you can explore and feel the real African Bush experience.
MIKUMI - fourth largest national park in Tanzania
GETTING TO MIKUMI NATIONAL PARK
Safaris to Mikumi usually start from Dar es Salaam, and your point of entry for the country is Julius Nyerere International Airport (DAR). In most cases, your tour operator will pick you up from the airport and handle all further ground operations or domestic flights.
Mikumi is a four-hour drive away from Dar  and can easily be visited as a weekend get-away. However, most people visit Mikumi en route to Nyerere or Ruaha. The only scheduled flights to Mikumi are with Safari Air Link which offers a daily connection to Ruaha, Selous, Dar and Zanzibar.
Distance from Dar-es-salaam to Mikumi National Park
SERENGETI TRIPS TANZANIA by Air packages are available year-round, subject to availability of accommodation and internal flights. INCLUSIONS: All logistics starting and ending at Dar es Salaam or Zanzibar International Airport, all light-aircraft flights within Tanzania, private road transfers from airport to hotel in Zanzibar, all park fees and taxes, shared safari activities, all meals and house drinks on safari, and half-board basis (breakfast and dinner included) on Zanzibar, and medical evacuation insurance. EXCLUSIONS: International flights to Tanzania, Tanzania entry visa, inoculations, gratuities, additional activities, meals and drinks.
WhatsApp: +255 759 694 668, email: info@serengetitrips.com or FILL the form below:
Welcome to Serengeti Trips; For many years we have been planning trips the length and breadth of the Country. The secret to our success? Our commitment to first-hand knowledge of every destination, lodge and activity we recommend. Collectively, we spend more than 365 days a year on safari to ensure you get the best, unbiased advice.
Whether you are dreaming of a first-hand meeting with the Big 5, getting up close and personal to a gorilla, witnessing one of the planet's most spectacular natural events, or simply relaxing on a pristine beach, our experts will tell you how and where to do it.