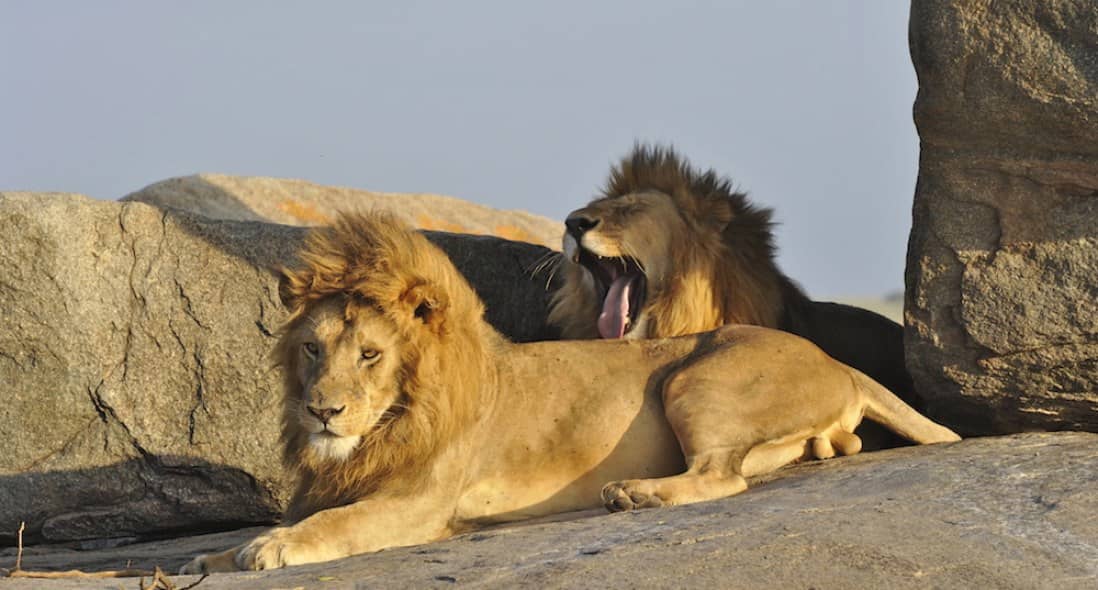 12 Best National Parks in Tanzania
Stalk the stalker, watch it pounce upon its prey, see millions of animals crossing a river, track gorillas, live in the wild and discover unusual species while you're at it. A wildlife safari is one of the biggest charms of any African adventure and Tanzania is perhaps the best country for a journey into the wild. Tanzania's national parks are designed to suit all kinds of interests, preferences and comfort levels, and you can be rest assured that there is a safari which is perfect for you.
But before you embark on your safari adventure, you need to make one of the biggest decisions – which park to visit and which park to leave out. Serengeti or Ngorongoro feel like the most obvious places to be, but it is equally possible that you have a much better time in one of the lesser-known parks.
Tanzania offers excellent wildlife viewing. There are three different safari circuits, and each one of them alone would make Tanzania a great wildlife destination. The Big Five and most other sought-after safari animals are easily seen. The black rhino is very rare throughout, with the exception of the Ngorongoro Crater.

Tanzania is one of Africa's best birding destinations. It has one of the largest species lists of any African country: over 1,100, of which over 800 species are resident, and nearly 200 are regular migrants. There are 22 species endemic and thus unique to Tanzania, and a further 43 near-endemic, restricted to Tanzania and neighboring countries only. Migrants are present from November to April.
The best time to visit Tanzania is during the Dry season, from late June to October, when wildlife viewing is generally at its best. The wildebeest migration in the Serengeti is usually during June and July and the time to see the wildebeest calving is late January to February. The southern and western circuit parks are best visited during the Dry season (June to October).
Tanzania National Parks and Game Reserves
Tanzania has a pleasant, tropical climate but has large regional climatic variations influenced by several factors, including altitude. The hottest and most humid part of the country is the coast. Other low-lying areas, such as the western and southern parks, are also hot but less humid. The rest of the interior is much milder and cools down significantly at night. Tanzania has a distinct Dry and Wet season.
Arusha's climate compared to Tanzania's parks
TanzaniaArushaArusha
Arusha is the town closest to the most popular northern parks and has a comparably mild climate. The peak amount of rainfall in April is considerably less in most parks than in Arusha. The Ngorongoro Crater rim receives quite a lot of rain and is very cold during evenings and mornings due to its high altitude (about 2,300m/7,545ft). Lower lying parks, such as Manyara, Nyerere, Mikumi, Ruaha, Gombe, Mahale Mountains and Katavi, are slightly warmer than Arusha.
National Parks in Tanzania
Dry season 

June to October
There is very little rainfall during this period and humidity is very low. It cools off at night; be sure to pack warm clothing because morning game drives in open vehicles will be cold, especially in the northern parks. June, July, August, September & October – Afternoon temperatures are usually between 20°C/68°F and 30°C/86°F and vary greatly according to altitude and location. Most days have a fine, clear sky and sunny weather.
Wet season

November to May
During most of the Wet season, afternoon temperatures are consistently hot (a bit above or below 30°C/86°F) but it is colder above 1,300m/4,265ft. Mornings are cold in most northern parks due to the high altitude.
November & December – 'Short rains' – A period of about a month of short rains which occurs sometime between November and December. Its timing is unpredictable and, in Northern Tanzania, it can even happen in October. The rains will rarely interfere with your safari.
January & February – The northern parks and coastal areas tend to have a break in the rainy season. The other parks don't really experience a dry spell.
March, April & May – 'Long rains' – These are the wettest months. It tends to rain heavily almost every day, although not often for the whole day. Humidity tends to be high, especially in the hotter southern and western parks.
The northern circuit is the most popular circuit in Tanzania. In most cases, you will fly to Kilimanjaro International Airport (JRO) or Arusha Airport (ARK) near Arusha, the gateway of the northern circuit.
Destinations:
1. Arusha National Park

 (0.5 to 2 days) 

has beautiful scenery with Mount Meru as a backdrop and views of Mt Kilimanjaro on clear days
2. Lake Manyara National Park or Tarangire National Park

 (1 to 2 days each) 

offer excellent wildlife viewing with a chance of seeing lion
3. Ngorongoro Conservation Area

 (1 to 2 days) 

where it's not unusual to see the Big Five in one day
4. Serengeti National Park

 (3 to 5 days) 

for top-class wildlife viewing throughout the year and the spectacular wildebeest migration is the cherry on top
Popular add-ons:
1. Zanzibar Island for some relaxing on gorgeous beaches
2. Gombe National Park or Mahale Mountains National Park for chimpanzee trekking
3. Kilimanjaro National Park to climb the mountain
The 'off-the-beaten-track' character of the southern circuit makes for a holistic wilderness experience. It's an excellent choice for a second safari on which marking off the Big Five is less of a concern. In most cases, you will fly into Julius Nyerere International Airport (DAR) in Dar es Salaam and fly on by small airplane to Ruaha or Nyerere National Park.
Destinations:
1. Mikumi National Park

 (1 to 2 days) 

is very accessible via a sealed road from Dar es Salaam and is an easy weekend getaway or can be visited en route to Nyerere National Park
2. Nyerere National Park

 (3 to 5 days)

 lies on the Rufiji River and aside from the usual game drives, boat trips and walking safaris are offered
3. Ruaha National Park

 (3 to 5 days) 

is great to see many animals that aren't easily seen in the north, such as wild dog and several unusual antelope species
 
Destinations:
1. Mahale Mountains National Park or Gombe National Park

 (2 to 5 days)

 for the best chimpanzee trekking in Africa.
2. Katavi National Park

 (2 to 5 days)

 for excellent wildlife viewing in the Dry season with superb wilderness appeal.
Kilimanjaro International Airport (JRO) is situated 50km/31mi east of Arusha, the gateway of Tanzania's popular Northern safari circuit. The drive from the airport to Arusha takes about 1½ hours*.
Tanzania's main airport is Julius Nyerere International Airport (DAR), located 13km/8mi southwest of Dar es Salaam. This is the entry point for visitors to the southern parks.
From Arusha or Dar es Salaam, you can fly or drive between reserves. Some domestic flights out of Arusha will leave from Kilimanjaro International Airport, while others leave from the much smaller Arusha Airport (ARK) located 8km/5mi west of town. However you choose to travel, in most cases, your local tour operator will pick you up from the airport and arrange all further transportation as part of your safari package.
Popular Tanzania Safari Packages & Prices
Safari by National Parks #1: